Leasing vs. Buying a New Car

If you are in the market for a new Acura, you may be wondering about your financing options. One common question that Oak Park drivers have is whether they should lease vs. buy their next vehicle. If you have questions about whether leasing a car vs. buying a car is right for you, the team at McGrath Acura of Downtown Chicago is here to help. We have compiled a list of the advantages of both methods to help you determine which is best for your driving needs and budget.
Why Should I Lease a New Acura?
There are many benefits of leasing vs. buying a new car. Many Riverside drivers opt for leasing because it is typically the more affordable of the two options. However, affordability is not the only reason why leasing may be a perfect choice for you. The benefits of leasing a car include:
Driving a vehicle in its prime – When you lease, you get to drive a brand new vehicle every few years, so you get to enjoy a pristine car with all of the latest features more frequently.
Less money is needed up front – A large down payment is typically not required when leasing a car vs. buying a car.
More affordable monthly payments – Your payments are based on the vehicle's expected depreciation, so they are typically more affordable. That is because you're contracting to use a portion of the car's value instead of paying the cost to purchase the whole car.
Future value is guaranteed – When you lease, resale value is never an issue. Simply return your vehicle to the dealership when the lease is up, or purchase it if you would like.
Disadvantages to leasing: When you lease a vehicle, you are not able to customize the vehicle the way you want and you can be charged for going over the mileage limits or for excess wear and tear.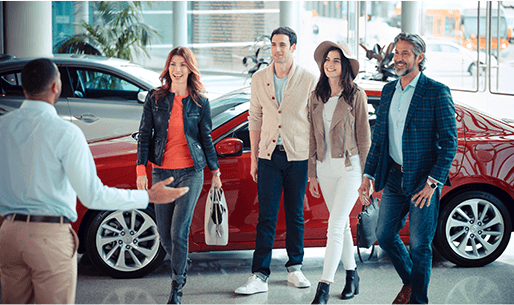 Why Should I Buy a New Acura?
While leasing may be right for some drivers, buying a car is better suited to others. Many Riverside drivers like the freedom of owning their vehicles, and there are several other benefits worth considering.
No mileage restrictions – When you buy a car, you don't have to worry about mileage restrictions. Drive your new Acura as much as you please. If you plan on doing a lot of traveling or you have a long commute to work, this may be the best choice for you.
Free to customize – Match your vehicle to your unique style when you choose to buy rather than lease. Add accessories, change the color, or update the electronics. The choice is up to you, and the possibilities are endless.
No charges for wear and tear – When you buy your vehicle, you will not be charged for any excess wear and tear. That is why buying is often the best bet for busy families and adventurers alike.
Disadvantages to buying: Buying is usually a bit more expensive up front, and new vehicles depreciate as soon as they leave the dealership.
Learn More About Your Financing Options with McGrath Acura of Downtown Chicago
Now that you know more about the advantages and disadvantages of leasing vs. buying a car, you can decide which financing choice works best for your current situation. If you have any questions, the knowledgeable and friendly team at McGrath Acura of Downtown Chicago would be glad to assist you. Contact us today.