Acura Vehicles: 6 Tips for Winter Driving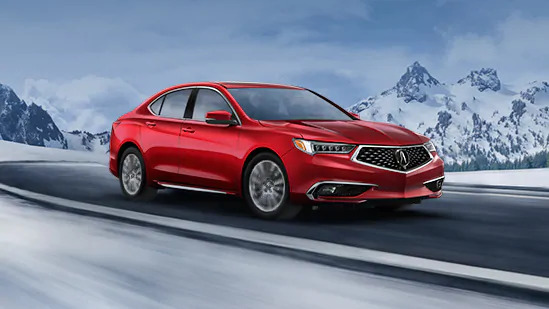 Acura Vehicles: 6 Tips for Winter Driving
Chicago's winter weather is a beast for any car or SUV, but Acura vehicles are up to the task of safely driving when they're snow and ice. With the winter fully set in, here are six winter driving tips to help keep you safe on the roads this season.
1. Select an All-Wheel Drive Acura Vehicle
If you're in the market for an Acura vehicle, keep winter driving in the forefront of your mind as you test-drive and compare different models. You don't necessarily need a crossover or big SUV, but you should opt for a model that has all-wheel drive.
Lots of Acuras come with available all-wheel drive, and Acura's is one of the best systems in the industry.
2. Invest in a Good Set of Winter Tires
No matter what model you drive, it will perform better in snow, ice and cold weather if you have a solid set of snow tires on the vehicle. Even though the tires that new Acura vehicles come with are good all-season tires, a set that's made specifically for winter driving will be better during the cold season.
Talk with the service center at your Acura dealership about what winter tires are best for your vehicle, and have them put on a full set of four.
3. Know the Capabilities of Your Acura
Every vehicle ultimately has its own nuances and capabilities, and no one knows your vehicle better than you do. Pay attention to how your Acura performs in different conditions, and keep its performance in mind when you're deciding whether to go out in storms.
Use sound judgment, and don't push your vehicle beyond what it can safely handle. Most Acuras can handle a lot, but they still have their limits.
4. Obey All States of Emergency
Should there ever be a state of emergency declared for Chicago, Oak Park, Cicero and other area communities, make sure you follow the guidelines and regulations. Don't drive if the authorities prohibit it. This is both for your own safety, and so work crews and first responders can do what they need to.
5. Pack a Winter Supply Box
Inside your vehicle, you should have a winter supply box. Some good items to include in a box are:
Spare winter clothing (gloves, hat, jacket, snow pants, boots, etc.)
Bag of cat litter (for extra traction on slippery surfaces)
High-energy snacks and bottles of water
Importantly, keep the emergency kit in a place that you can access without leaving your vehicle. The cargo area of an Acura crossover or SUV is fine, and the back seat is a good place in an Acura sedan. This ensures you don't have to bear frigid temperatures to access what you need, and it guarantees that you can get to your emergency supplies even if a trunk or door is blocked by snow.
6. Drive Slow When Road Conditions Are Poor
Perhaps most important of all, drive only as fast as road conditions allow. When conditions are poor, go slowly so that you don't lose control of your vehicle.
To make sure you can go slow, allow a few extra minutes during winter. Get in the habit of leaving early.
Find an Acura Vehicle
If your current vehicle isn't good in the snow, let the team at McGrath Acura of Downtown Chicago help you find an Acura vehicle that will do well. The dealership is open six days a week at 1301 N. Elston Ave., and there are lots of new Acura vehicles in stock that will perform well this season.
Article published on December 30th, 2019.
Sales Hours
773-756-5717
| | |
| --- | --- |
| Monday | 9:00 am - 8:00 pm |
| Tuesday | 9:00 am - 8:00 pm |
| Wednesday | 9:00 am - 8:00 pm |
| Thursday | 9:00 am - 8:00 pm |
| Friday | 9:00 am - 8:00 pm |
| Saturday | 9:00 am - 6:00 pm |
| Sunday | Closed |